Harlem Brownstones & Condos For Sale
Harlem Brownstones &
Condos For Sale
Founded in the 17th century as a Dutch military outpost, Harlem has been a farming village, revolutionary battlefield, industrial suburb, commuter town, symbol of urban decay, and world-renowned center of African-American culture, from Langston Hughes to Dizzie Gillespie. Its gorgeous housing stock—brownstone and limestone facades, mansard roofs, gables and gargoyles on tree-lined streets—had been revived from a years-long slumber to take its place among one of the most desirable areas in Manhattan.
What is referred to as Harlem covers a large geographic area comprised of West Harlem, Central Harlem and East Harlem, each with their own distinctive history and characteristics.
Interested in a brownstone in Harlem? Iconic Central Harlem was formed around the historic landmarked Mount Morris Park District. This area is known for beautiful tree line blocks. Harlem brownstones here were built around the 1900s. Over the past few decades many of these homes have been exquisitely restored.
Homes for sale in Harlem NY include condos, of course. A number of condos in Harlem have been built on empty lots; some blending seamlessly into the historic backdrops while others are more striking glass and steel monoliths. The combination of wide boulevards with planted malls and zoning restrictions, keeping most  buildings under 12 stories tall, along with wide sidewalks, creates a greater sense of space and ease than other congested parts of the city. It is even noticeably cooler in the summer months then it might be in Midtown.
Central Harlem is known for its magnificent, historic churches drawing international tourists year-round for Sunday gospel sermons. Mount Olivet Baptist Church is a striking limestone building located on Lenox Avenue and 120th St. Just a few blocks away on Lenox and 123rd St. is the landmarked Esphesus Seventh-day Adventist Church.
The neighborhood is graced by three parks including Central Park, Morningside Park and Mount Morris Park. Mount Morris Park boasts the newly renovated Richard Rogers Amphitheater hosting Shakespeare in the park every summer. a public swimming pool and the Harlem Fire Watchtower. This watchtower is the only surviving one of eleven cast-iron towers placed around the city beginning in the 1850's.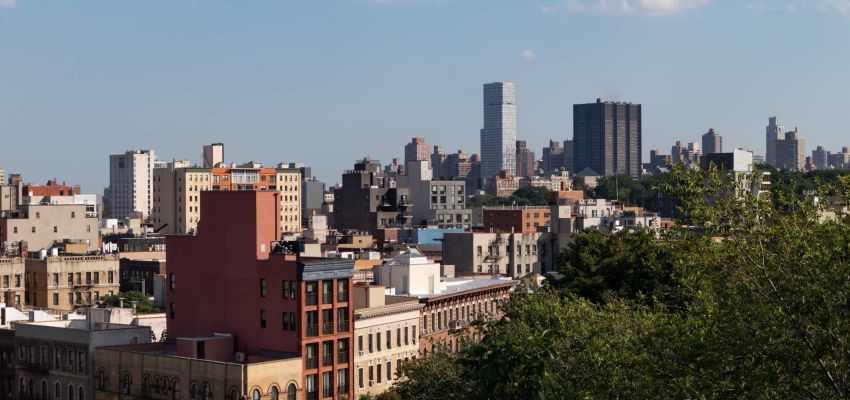 West Harlem encompasses three distinct neighborhoods: Morningside Heights, Manhattanville and Hamilton Heights. All three are very distinct and have a rich diversity of history and cultural institutions.
North of Cathedral Parkway (110th Street) and south of 125th Street, Morningside Heights is dominated by renowned institutions of higher education: Columbia University, Barnard College and Union Theological Seminary. It is also home to the Cathedral of St. John the Divine.
The Eastern edge of the neighborhood is defined by Morningside Park, a landmarked Olmstead and Vaux designed park. The campuses of Columbia, Barnard, and Union Theological Seminary can feel like a large campus superimposed on the grid of Manhattan. Until recently the majority of the housing stock was earmarked for faculty, staff and students of the educational institutions in the neighborhood. Two new condominiums, the Vanderwater and Claremont Hall now offer luxury living for all in the heart of this vibrant, intellectual neighborhood. Plenty of restaurants and stores can be found along Broadway, catering to students, professors, and other residents.
Manhattanville runs from 125th up to 135th Street and is noted for the incredible diversity of buildings. In the heart of the neighborhood is the Columbia University expansion above 125th Street that has brought vibrancy to that part of town. The new buildings offer an art gallery, a rock climbing wall and a food court, which are all open to the public. The arched tracks of the number one subway train, which rides high above the pedestrians and cars below, offers gritty, urban glamor making it an Instagram start.
Nestled between Morningside Heights and Washington Heights, Hamilton Heights is named after the founding father (and Broadway inspiration) Alexander Hamilton. The home he lived in for the last two years of his life, the Grange, still stands. The neighborhood's trajectory mirrored Harlem's, with many of those homes bought by affluent African-Americans especially in Sugar Hill, an enclave on the eastern side of the neighborhood.
East Harlem
While Harlem has long been a heart of the city's, and the country's, African-American population, East Harlem has played a similar role for the Latino, and specifically Puerto Rican, community. Sitting north of 110th Street and east of Fifth Avenue, "El Barrio" fills the northeast corner of Manhattan. The area was known as Italian Harlem before demographic changes around the time of World War I led to it becoming a center of Puerto Rican life and receiving the somewhat-misleading nickname Spanish Harlem. Puerto Rican culture still dominates much of life in East Harlem, with El Museo del Barrio being one of the city's leading institutions focused on Hispanic art and culture.
Alongside its Puerto Rican roots, however, the neighborhood has become increasingly diverse, attracting new residents drawn by affordable apartments in a quiet area that sits conveniently near the cultural and culinary riches of the Upper East Side.
Large scale new developments in East Harlem offer a wide variety of luxury living options in the neighborhood. Notable standouts include One Museum Mile at 1280 Fifth Avenue, overlooking the Harlem Meer in Central Park, 1399 Park, a modern, new development at 104th Street and Fifth on the Park at 1485 Fifth Avenue which overlooks Marcus Garvey Park.
The neighborhood has also seen the addition of a slew of boutique condos for sale and rentals filling up the neighborhood's previously empty lots. There are plenty of historic brownstones and churches in the neighborhood. The Church of St. Paul is a landmarked Roman Catholic parish located on 117th Street. The Astor Row townhouses on 130th Street, also landmarked, are notable for having front yards giving it a suburban vibe.
Condos In Harlem
Over the past 20 years Harlem real estate has grown quite a bit, with approximately 85 new condominiums being built, adding about 3,500 homes to the neighborhood. The first wave of developers planned their buildings with a very economic model in terms of the size of the apartments built, the level of finishes, appliances and building amenities.
Twenty years ago, Harlem was strictly a value play and new owners came for great prices.  As more affluent buyers were attracted to the ever-evolving neighborhoods above 96th street (with the allure of lower monthly charges, lower taxes, and a thriving new restaurant scene) the price threshold rose. Developers planned their buildings around this more discerning customer base by elevating the design and the price.
The second tranche of builders saw that the neighborhood was becoming more popular with those who didn't want the higher prices further south, but they still wanted to stay in Manhattan. As a result, they added higher end finishes and although not luxurious they were a cut above prior buildings. For example, a washer/dryer was included in every apartment instead of a common laundry on each floor.
Then came the developers who were able to pay out for the development sites on Central Park with direct views of the park which are guaranteed to remain unobstructed because Central Park is a Landmarked Park. This history explains the wide divergence in sale prices you may find today between buildings only one block away from each other. Higher sale prices are typically associated with these very special buildings along the northern edge of the park which include: Circa at 110th and Central Park North, 145 Central Park North between Adam Clayton Powell Jr. Boulevard and Lenox Avenue, 111 Central Park North at the corner of Lenox Avenue and 1280 Fifth Avenue located at the Northeastern entrance to Central Park.
Brownstones In Harlem
Harlem townhouses are spread throughout the neighborhood from 110th Street all the way up to 155th Street. The vast majority were built in the late 1800's and early 1900's. It was not uncommon for a developer to build three at a time. Looking up at the cornices you may see contiguous buildings with the same design.  You may also see repeated architectural details in the façade.
In the interior the builders would create a doorway between the homes as they were building them to make it easier to go between houses during the construction phase. This is why it is not uncommon to see an arched doorway bricked up when you take down the sheetrock and plaster while renovating an older home.
The most common townhouse width is between 17 feet and 19 feet wide with a depth of 55 feet. While most lots are approximately 100 feet long this additional lot size creates the garden. The larger homes on the avenues typically have more interior space but their lot sizes are smaller creating shrunken garden spaces.
The Mount Morris Park Landmarked district in Central Harlem is home to some of the most magnificent townhouses, many of which have been lovingly restored. Gracious bow fronts, some of which are a full 20 feet wide, are not uncommon on these few special blocks running between Marcus Garvey Park and Adam Clayton Powell Boulevard.
Another notable landmarked area is Striver's Row located on 138th and 139th Streets between Adam Clayton Powell and Frederick Douglass Boulevard. Built by David H. King in the late nineteenth century, these homes had a private street in the back and stables for their houses. The message, "Private Road, walk your horses'  remains engraved in a limestone pillar. Today the private streets grant access to owners who park their cars in garages where stables once stood. The neighborhood is part of the St. Nicholas Historic District which preserves the façade of each striking, historical home.
Real Estate Agent Harlem
A typical Harlem Real Estate Agent is likely to have experience with a wide variety of homes because the housing stock is varied.
There are plenty of Harlem condos for sale ranging in size from boutique buildings — which are either new buildings or created from an existing brownstone — up to single family homes.
There are also a number of buildings which are affordable, meaning they are subsidized and have income restrictions. These can be a little bit tricky because a buyer is required to show their tax returns for the past two years and current pay stubs to prove they meet the criteria. While going this route can be a wonderful way to fix your housing costs, the purchase and sale process is long and complicated. Yet owning one of these apartments can be an economic boon for the buyer intending to stay for the long term.
And while a townhouse seems like a straightforward proposition, there is plenty to know about buying and selling one of these delightful homes. Owners take on far more responsibility for running the home and eventually transferring it onto the next buyer than you would with a simple apartment sale. In either transaction, purchasing in an income restricted building or buying a full townhouse, there are many nuances to the transaction and working with an experienced agent will save you time, money, and stress.
Buying a condominium is typically a less nuanced deal but in Harlem there are a number of buildings with tax abatements. Understanding how these abatements work (hint: they are not all the same) will help you make a better decision.
There is also at least one cond-op which is a land lease co-op building with condo rules.  Many buyers are overwhelmed by the potential risks at first but for the right buyer these apartments are a great opportunity. Real estate is hyper local, and Harlem is no different so if you are in the market to buy or sell make sure you are working with an experienced Harlem Real Estate Agent.
Interested in Upper East Side condos for sale?
Contact Julia, one of the best real estate agents NYC has, with more than 20 years of experience.