Upper West Side Condos & Apartments For Sale
Upper West Side Condos &
Apartments For Sale
Upper West Side
Apartments
Upper West side apartments for sale offer many choices for living in pre-war buildings with elaborate lobbies and architectural details in every apartment such as crown moldings, beamed ceilings, hardwood floors and the solid construction sought for its sound attenuating properties. For the most part, these buildings tend to be co-ops which are ideally suited to anyone looking to call their apartment home for the next five to seven years.
There is also a wide selection of Upper West Side condos for sale thanks to all the new development construction over the past couple of decades. For those who are seeking a boutique living experience, non-doorman buildings with fewer than forty apartments can be found especially along the blocks between Central Park West and Columbus or West of Broadway.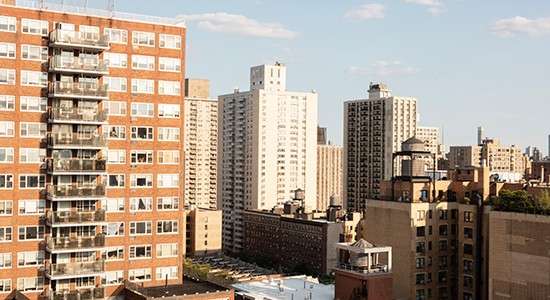 Upper East Side
Condos
Some of the most striking Upper East side condos for sale include the new developments. The uber luxurious Benson is located at 1045 Madison Avenue. It was designed by award-winning architect, Peter Pennoyer. These fourteen special residences offer all the best of Upper East Side living with all the flexibility of a condominium.
For those seeking a quieter area of the neighborhood, 40 East End is a Robert A.M. Stern designed, full-service building with many homes overlooking the river. There are plenty of other Upper East Side condos for sale, including those looking below $4 million, as developers have been busy building new homes over the past several years in this iconic neighborhood.
Upper East Side Real Estate New York
With upper East Side real estate in New York, traditionally the closer you are to Central Park the higher the home prices. It is not uncommon to find co-operatives along Fifth Avenue and Park Avenue which do not allow financing and require owners to not only pay all cash but then reflect that same amount in liquid assets once they close.
Further East the neighborhood was undesirable for years because it was underserved by public transportation. This changed when the Q train opened in 2017 connecting that part of town to the rest of the city. Apart from easy transportation some of the other benefits to living near the East River include Charles Schurz Park, a beautifully maintained 15 acre park and access to the east river esplanade.
Upper West Side Condos
There are about 400 Upper West Side condo buildings. Some are still under construction while the oldest dates to 1875. Any building pre-dating the Second World War is referred to as a pre-war and generally prized for its old-world architectural details.
From approximately 1950-1980 condominiums were built more economically and while the larger windows and more modern exteriors appeal to some, this class of buildings were known for lacking sound attenuation and offering lower ceiling heights than a pre-war which was reflected in the price.
At the beginning of the twenty first century a new class of Upper West Side condos were built. These new developments offer the large-scale rooms and floor plans of a pre-war while upgrading the experience to today's lifestyle.
Upper West and Upper East side
The Upper East Side and the Upper West Side offer gracious living at a wide variety of price points. Both areas offer everything from a walk-up studio in a brownstone to jaw dropping multi-million-dollar luxury homes in doorman buildings.
Separated by Central Park and bound by the river, these neighborhoods are vibrant enclaves with rich histories. While in the past their reputations made for fierce devotion by residents to either one side or the other, today both areas have a broader appeal.
It is common for buyers to look on both sides of the park when finding a new home. Each neighborhood has its own iconic cultural institutions – The Metropolitan Museum of History and The Museum of Natural History are two of the most famous. Shopping, services, and a wide variety of dining options can be found from food trucks to Michelin Star restaurants on both sides of the park.
For many, the words "Upper East Side" evoke New York City's old-money world, the so-called Silk-Stocking District with its luxury doorman buildings, handsome townhouses, and boutiques and galleries along Madison Avenue. While that image of the neighborhood is based in fact — the Upper East Side is home to some of New York's most affluent ZIP codes — it is only one aspect of the area.
Alongside enclaves like Carnegie Hill and Sutton Place, Upper East Side condos in the eastern and northern parts offer more approachable price points. Yorkville, along the river, has buildings in a wider array of prices, and Second and Third avenues are also more budget-friendly alternatives to Madison. The cultural highlights of Museum Mile as well as Central Park, running along the neighborhood's western edge, bring visitors from all over the city, and the world, to this part of Manhattan.
The Upper West Side is arguably an attitude as much as it is a place. Many of its residents have a passion for embracing all the cultural riches that New York offers, and it has been a favorite neighborhood of people who produce much of that culture — actors, writers, professors, musicians, and others.
Much of the bookish quality of the Upper West Side is due to some of the institutions that call it home (or sit on its edges) — Columbia and Barnard (just north, in Morningside Heights), Fordham Law School, Juilliard, and other smaller schools.
The neighborhood attracts more than academics and the creative class, however, with people in all stages of their lives enjoying its welcoming and easygoing atmosphere.
Looking for condos for sale in Harlem?
Contact Julia, one of the top NYC real estate agents.